Ideal Chair for operators
Hard and thick cushion
Since the seat uses a hard and thick cushioning material, there is little sinking of the body, which helps with reducing tiredness even after long-term use.
Special seat shape
The seat is of unique triangle shape which reduces pressure on the back of thighs.
Backrest to support the waist
The backrest, which has been devised in the width and curvature that holds the upper part of the waist, not only receives the back, but also has the effect of maintaining a posture that can reduce the burden on the operator's waist.
Simple elevating section
The foot-operated lift unit inherits the simple and highly durable mechanism from the previous model, and the foot pedal allows to perform easy and reliable lifting/lowering/swing lock (seat rotation lock).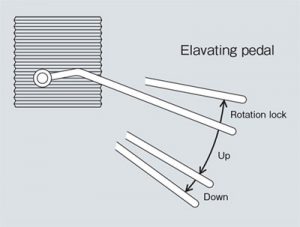 Armrest with cushion
The OC-1A armrest with cushion is slightly inclined inwards so that the arms are placed naturally.
Caster with big diameter and wide width
Casters with big diameter and wide width reduce the resistance and enable the operator to move easily.
Stable base section
Five arm shafts and a low center of gravity hydraulic mechanism form the stable base section.